There are many things to consider when choosing shoes for your baby. We cannot take into account the conditions we make when choosing our shoes. Baby feet are not fully developed. A child up to 6 months old still has a soft leg. Children's bones ossify at about 3 years of age. The legs develop fully when they reach the age of adulthood.
The babies' legs have low arches. Because of the soft feet and low arches, putting on your shoes is a big undertaking. As the child does not push his toes with enough force into the booties at all, this is a challenge for the parents. After all, we try to walk around with our baby's feet gently so as not to hurt them, or worse, accidentally cause them some trauma.
Fortunately, Bukubee Baby booties have been launched to solve this problem.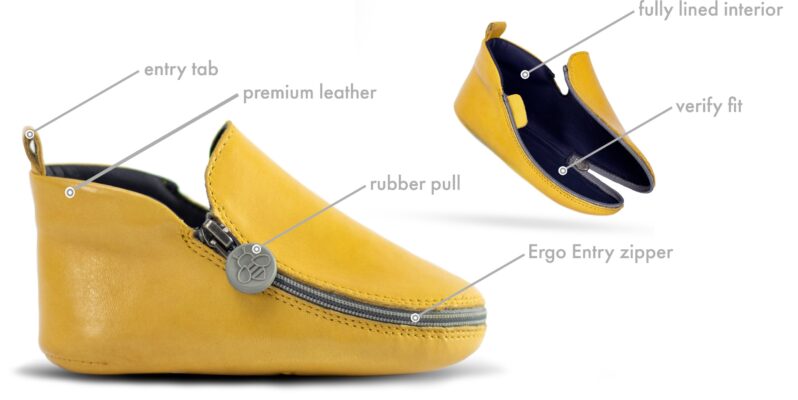 The smaller sizes (18-19) have fully detachable locks, which allow the baby's foot to be placed in the boot and gently pulled out. Older babies already have higher numbers (20-22) and shorter locks. These are models with rubber soles. At this stage of development, children are already able to hold their feet and push with them. At this age, babies should be crawling and some are already standing up. The rubber sole boots are also very soft and fall into the barefoot friendly category, as do all other Bukubee Baby booties. Due to its softness and comfort, they are also very easy to walk on and feel the ground for the baby because of the rubber soles.
The Bukubee Baby booties range includes models for different weather conditions. The baby's feet could also be protected with booties in the stroller. Don't think about babies' feet only when they start walking.
The feet of a walking baby need to be protected from cold, sharp rocks or bumps. Because Bukubee Baby booties are so soft and comfortable, they are almost equivalent to walking barefoot. Outdoors, barefoot the baby may step on  shards of glass, sharp stones, syringes, etc. that will go unnoticed for the time being.
Shoes also for a baby who is not yet walking
Even non-walking babies need and are worth their first booties. The Bukubee Baby booties are also available in very small sizes with a soft sole. They replace hoods or slippers perfectly. They keep your baby's feet warm while walking in the stroller or crawling indoors. Booties keep baby's feet safe. Their toes will not go backwards and help prevent the risk of injury. And besides, Bukubee Baby shoes are very beautiful and stylish.
Bukubee Baby booties follow the natural shape of the baby's foot and do not compress the toes (care must be taken to buy shoes of the right size, not too small).
The design of these boots secures the boots to the foot.
They are very light and flexible and do not restrict the movement of the feet or toes.
Bukubee Baby booties meet all the best conditions, which is the best choice for baby's feet.
You can find the Bukubee Baby model selection here: https://bukubee-europe.com/en/